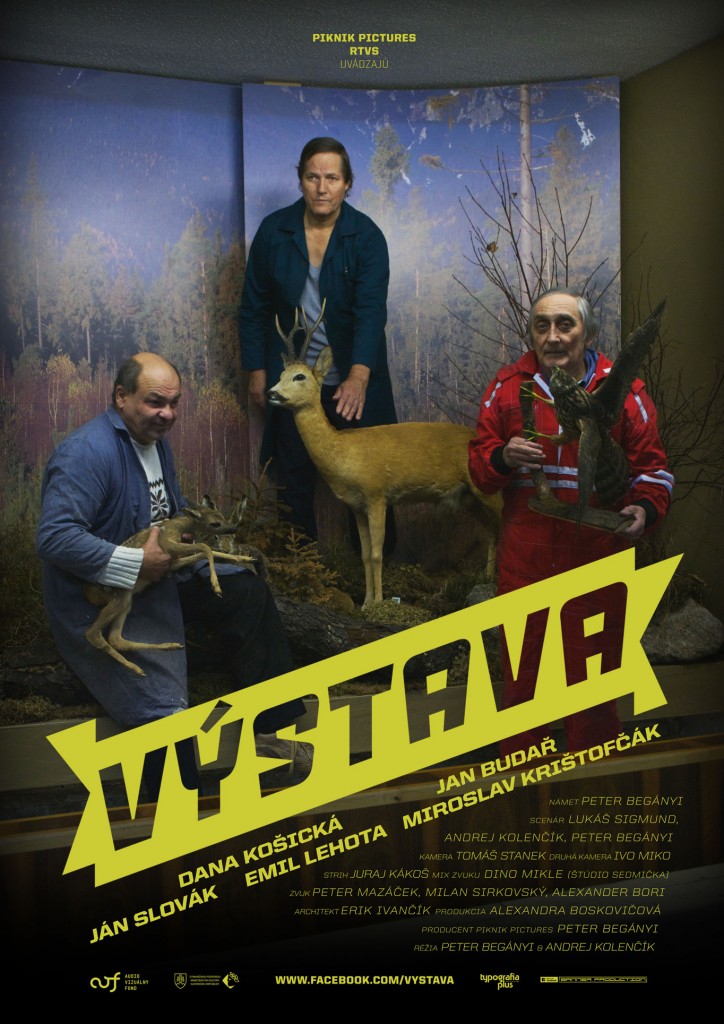 Vystava (The Exhibition) tells about a small museum, where the economic boom has not yet arrived. It appears as if time has stopped in this national museum, a museum which should serve as a show window for Slovakia. Stuffed animals are covered with dust and the three employees working as caretakers of the huge building look like the museum exhibits themselves.
Trpká komédia "Výstava" vypovedá o vzťahoch na pracovisku v malom provinčnom múzeu, kam ešte nedosiahol ekonomický boom a čas akoby sa tu zastavil. Jeho ústrední hrdinovia sú zamestnanci, ktorí sa starajú o expozíciu vypchatých zvierat. Ich každodenná pracovná rutina je však náhle narušená…
Film si môžte pozrieť pod Pianom TU!
2013
Short Film
Žáner: Tŕpka komédia
Producent: Piknik Pictures
Hrajú: Jan Budař, Dana Košická, Ján Slovák, Emil Lehota, Miroslav Krištofčák a ďalší…
Réžia: Peter Begányi & Andrej Kolenčík
Scenár: Peter Begányi, Lukáš Sigmund, Andrej Kolenčík
Hlavná kamera: Tomáš Stanek
Druhá kamera: Ivo Miko
Strih: Juraj Kákoš
Awards & Festival Selections
2014 - XIII St.Petersburg International Festival of Debut and Student Films BEGINNING, Russia
2014 - Deep fried film festival, Scotland
2014 - New Orleans Film Festival, USA
2014 - Edmonton International Film Festival, Canada
2014 – Pohoda, Trencin, Slovakia
2014 – 43. Lubuskie Film Summer – Lagow, Poland, Silver Grapes – 2nd place in short film competition
2014 – Art Film Fest Trencianske Teplice, Slovakia, Film Europe Award
2014 – Lubuskie Lato Filmowe, Poland
2014 – Go East, Wiesbaden
2014 – PriFilm Fest, Prishtina, Republic of Kosovo
2014 – Vilnius International Film Festival, Lithuania
2014 – Slnko v sieti, National prize for Best Short Film
2014 – Küstendorf, Serbia – Golden Egg – Best Short Film
2013 – CinEast, Luxemburg
2013 – IFF Bratislava, Slovakia
2013 – Cinematik, Slovakia
2013 – Black Night Film Festival, Estonia
2013 – Warsaw Film Festival, Poland
2013 - Nancy-Lorraine International Film Festival
2013 – Febiofest Prague, Czech Republic - International premiere (Jury Award – Outstanding Film Novella)
2013 – Febiofest Bratislava, Slovakia - Slovak premiere (Audience Award)