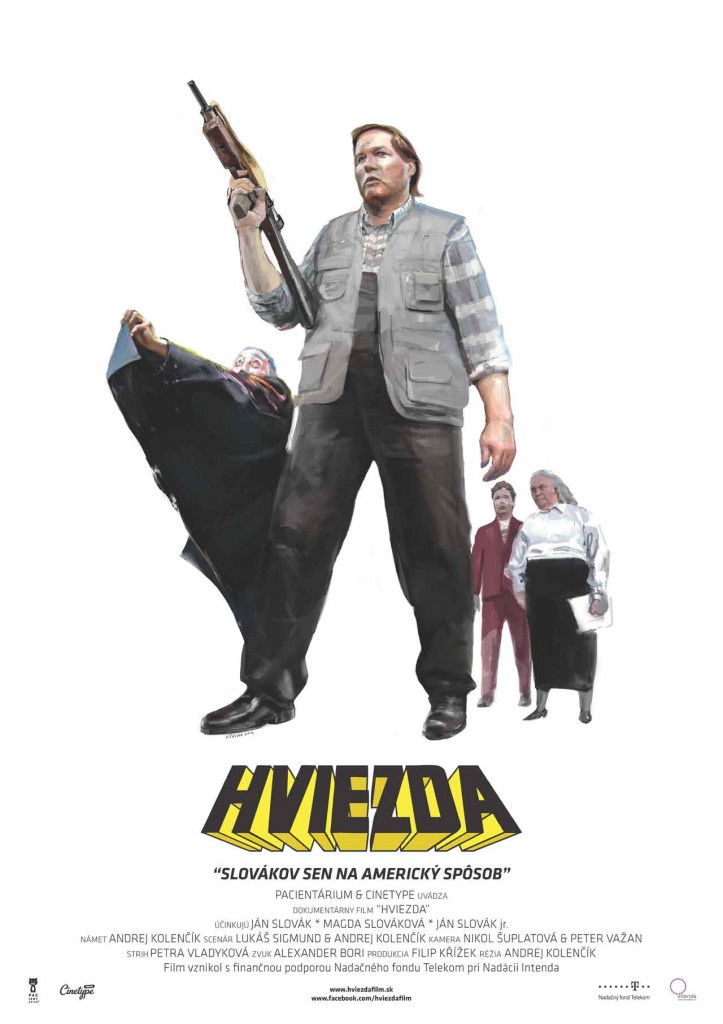 The documentary film "The Star" tells a story of Jan Slovak, a 55-year-old welder, who fell in love with acting. His desire began, when he got the lead role in a theatrical adaptation of the worst movie of all time, Plan 9 From Outer Space by Ed Wood Jr. The passion for theatre became his destiny.
Dokumentárny film "Hviezda" rozpráva príbeh Jána Slováka, 55-ročného zvárača z Doprastavu, ktorý prepadol hereckej vášni. Jeho túžba sa začala napĺňať, keď získal hlavnú rolu v divadelnej adaptácii najhoršieho filmu všetkých čias, Plan 9 From Outer Space od Eda Wooda Jr. Dosky, ktoré znamenajú svet sa stali jeho osudom.
Film si môžte pozrieť pod Pianom TU!
2012
Short Documentary Film
Story * Námet : Andrej Kolenčík
Screenplay * Scenár : Lukáš Sigmund, Andrej Kolenčík
Directed by * Réžia : Andrej Kolenčík
1st Director of Photohraphy * Hlavný kameraman: Nikol Šuplatová
2nd Director of Photography * Druhá kamera: Peter Važan
Editor * Strih : Petra Vladyková
Sound Design * Zvuk : Alexander Bori
Starring * Účinkovali: Ján Slovák, Magda Slováková, Ján Slovák Jr. a ďalší
Color Grading : Samuel Vičan
Poster Illustration: Petr Včelka
Production * Produkcia : Filip Křížek
Producer * Producent : Andrej Kolenčík
Co-producer * Koproducent : Cinetype, s.r.o.
Awards & Festival Selections
2015 – Festival Transterritorial de Cine Underground
2014 - Luksuz festival, Slovenia - "Best Theatrical Performance" award
2014 - 5th Siliguri International Short Film and Documentary Contest, India
2014 – Tirana International Film Festival, Albania
2014 – Zagreb Film Festival, Croatia
2014 - FFFilm Project, Porto, Portugal
2014 - Cine Campus Puerto Rico, Puerto Rico
2014 - World Arts, Jacksonville, Florida, USA
2014 – Global Visions festival, Edmonton, Canada
2014 – Onecloudfest
2014 – Cinema Club, New York, USA
2014 – Jeden Svet, Prague, Czech Republic
2013 – Duka Fest, Banja Luka, Serbia - Special award
2013 – Magma – mostra di cinema breve, Italy – Best Documentary
2013 – Incubate, Tilburg, Netherlands
2013 – Flagstaff Mountain Film Festival, Arizona, USA
2013 – Portobello Film Festival, London, UK
2013 – Collecchio Videofilm festival, Italy - Winner
2013 – Electric Lantern International Film Festival, UK
2013 – Curtas Vila do Conde, Portugal
2013 – The International Short Film Festival of Cyprus
2013 – IFF 42nd Lubuskie Film Summer 2013, Poland
2013 - Festival International du Film d'Aubagne, France
2013 – Festival Alto Vicentino, Italy
2013 – The Vagrant Film Festival, Belarus
2013 – Kino na hranici, Czech Republic-Poland
2013 – Dokumenta Madrid, Spain
2013 – 20min|max International Short Film Festival Ingolstadt, Germany - Winner
2013 – Phoenix Comicon, USA
2012 – żubrOFFka, Poland
2012 – Black Nights Film Festival, Estonia
2012 – Weyauwega International Film Festival, USA
2012 – MFF Bratislava, Slovakia
2012 – Grand OFF World Independent Film Awards, Poland - Finalist
2012 – CinEast, Luxembourg
2012 – Leiden Film Festival, Netherlands
2012 – Tofifest, Poland
2012 – Tranzyt festival, Poland
2012 – DocuFest Atlanta, USA
2012 – Phenomen Film Fest, Louisiana, USA
2012 – Cinematik, Slovakia
2012 – IFoLT (Zlaty Zobrak), Slovakia - Winner
2012 – LIsFE, Leiden, Netherlands - Jury honorable mention
2012 – Palm Springs Short Fest, USA - North American premiere
2012 – Febio Fest, Slovakia - World premiere